I think ever since I was new here, I've come across map comments saying things like "too many chokes" and "-1 because of the choke points" and people generally working under the belief that if a map has a choke point then it's a bad map, and that it won't be fun to play a game on.
You would expect then that the ideal map would be wide open, giving units freedom to zoom wherever they want unobstructed. Well I have something to say about this, which I think has needed saying for a long time...
You know them wide-open maps? The ones with no chokes? Yeah? Well they suck! They suck and they're boring, and bland... and have FTA.
Seriously it seems like back in the day, someone said chokepoints were bad and everyone just accepted it. but it just isn't true, not all choke points are bad. choke points are areas of interest in a map, they are the one place were strategy wins out over numbers, and they are important to stop the map from just reverting into a crap shoot.
I think the thing is that people need to distinguish between an interesting narrow point on a map and a bottleneck. I made these two maps to use as examples.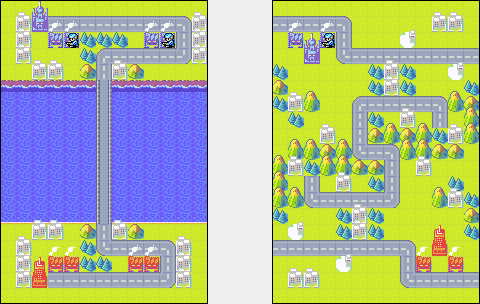 The map on the left is a true bottleneck. Both armies have a large amount of production, and are being filed into a very long narrow space where there in no way to pass each other. there is also no extra income to be gained by advancing along the bridge and indirects will annihilate anything that does. This map has all the makings of an endless stalemate. When people said to avoid choke points I believe this is what they were talking about.
The map on the right also has a choke point, but this time it's a completely different state of affairs. Firstly the narrow area is nowhere near as long. Secondly there is plenty of room here for mechs and air units to harass vehicles near the mountains. There are also a lot of cities near by which can be fought over. and there is more space for indirects to take up proper firing positions without being forced into the choke like they were on the bridge. This map is not only playable it's actually a pretty good map IMO, and I think tussling for control of the choke with copters and mechs and trying to get rockets in position so you can eventually bust through with your tanks. would make for and awesome game.
I think the crucial thing with chokes is not how narrow they are but how long they are, and how many options there are to break them. chokes are not good or bad, they just map elements that can be done well or poorly. I'm tired of people throwing "choke point" around like it's some kind of insult. Sometimes choke points are awesome, and they add interest to a map.